TUESDAY NIGHT YOUTH (grades 7-12)
VISION FOR FIRST ALLIANCE YOUTH: Guided by the Holy Spirit, we hope for all youth to follow Christ's example in every aspect of their lives.
MISSION: How do we accomplish our vision.
Classic Youth (Bible study) - helps youth to know about God and to learn how to walk in His footsteps (through Bible study)
Community-building events – helps youth to build Christian community and give them an opportunity to invite their friends to discover Jesus. Jesus built community and invited others to "come and see".
Missions trips – give youth the opportunity to serve locally/overseas and to obey the Great Commission
Worship nights – give youth the opportunity to serve and to build the habit of worshipping Jesus through music
DOXA – opportunity to get together with other like-minded Christians across Scarborough
TUESDAY NIGHTS
6:30-8:30pm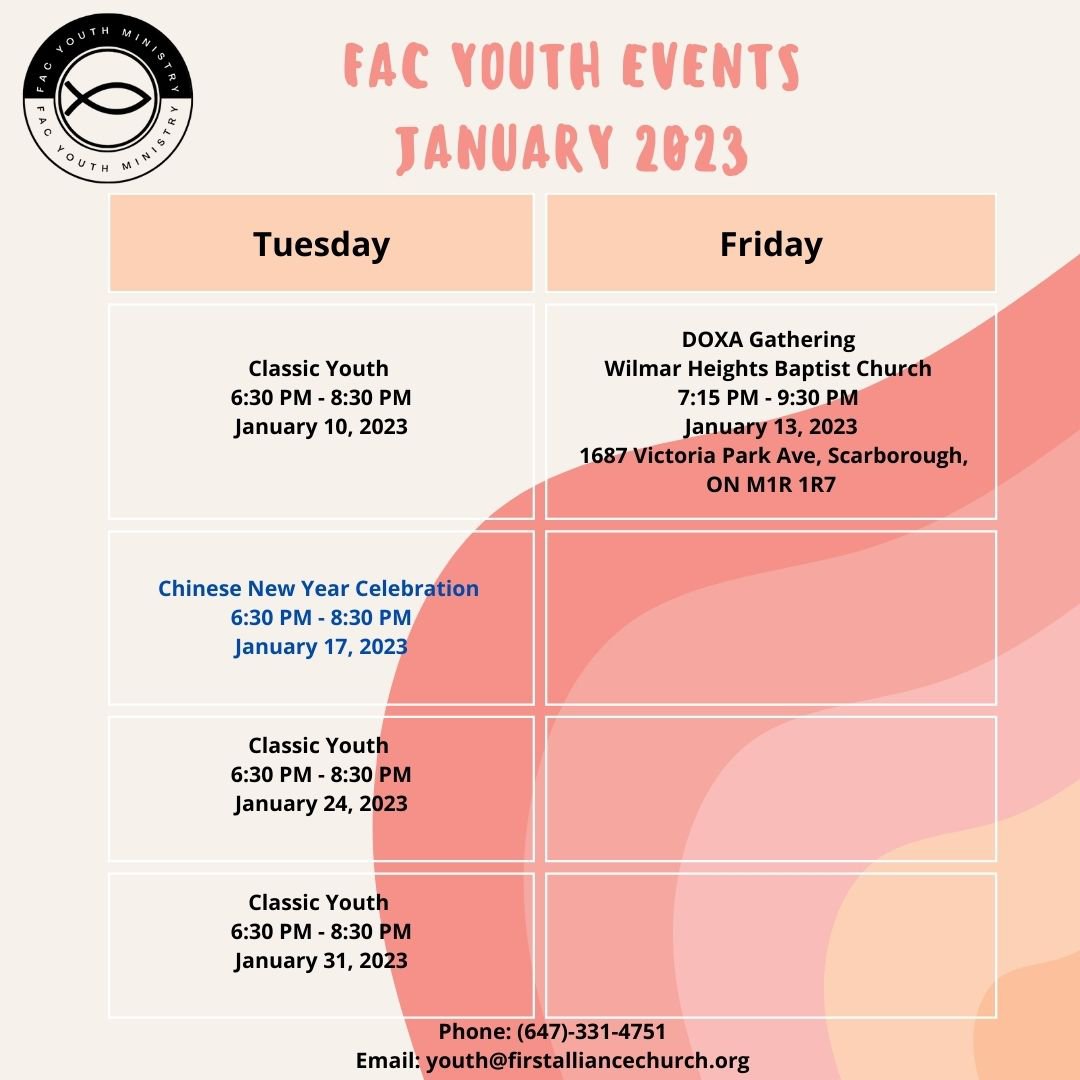 DOXA - YOUTH UNLIMITED
On the first Friday of the month (Oct to June), we gather with youth from churches all across Scarborough for a Youth Unlimited event, called DOXA Gatherings. DOXA Gatherings run from 7:30 PM to 9:30 PM.
January 13, 2023 - Wilmar Heights Baptist Church
1687 Victoria Park Ave, Scarborough, ON M1R 1R7
February 3, 2023 - GracePoint Baptist Church
3143 Sheppard Ave E, Scarborough, ON M1T 3J7
February 17-19, 2023 - The Bob Rumball Camp of the Deaf (Elevation Winter Retreat)
March 3, 2023 - Grace Presbyterian Church
447 Port Union Rd, Scarborough, ON M1C 2L6
All youth and friends are welcome!
Please contact Cricket at youth@firstalliancechurch.org or 647-331-4751 if you have any comments, questions or concerns.
Signup below to receive more information.