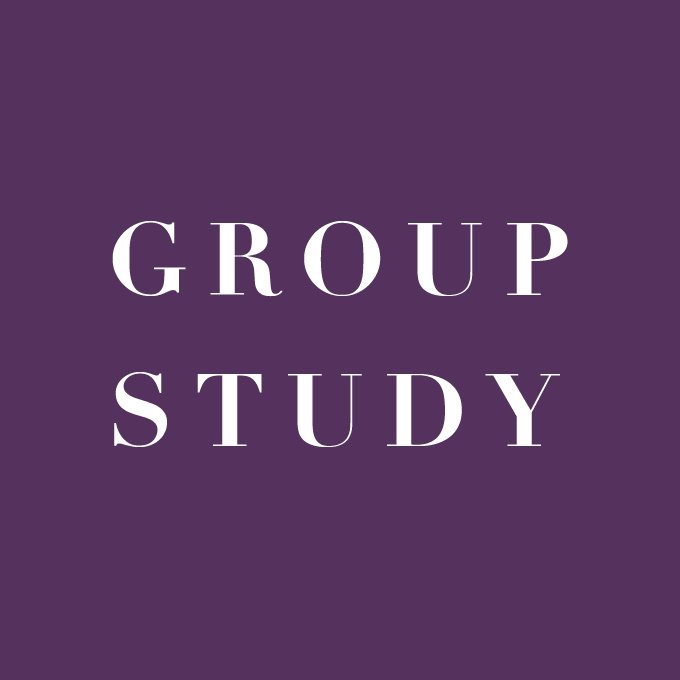 Welcome to this week's Group Study! This winter we're doing an 8-week block starting January 17 running through the week of March 7.
Start your time with a Check-in (about 15 minutes)
inductive bible study (30-40 minutes)
Open your Bibles and begin with a prayer, asking the Holy Spirit to help you read God's Word. Read the passage out loud once together and then silently once more on your own, noting your observations and questions. Then take a few minutes to share your observations and questions together.
KEY SCRIPTURE: REVELATION 1:9-18
9 I, John, your brother and companion in the suffering and kingdom and patient endurance that are ours in Jesus, was on the island of Patmos because of the word of God and the testimony of Jesus. 10 On the Lord's Day I was in the Spirit, and I heard behind me a loud voice like a trumpet, 11 which said: "Write on a scroll what you see and send it to the seven churches: to
Ephesus, Smyrna, Pergamum, Thyatira, Sardis, Philadelphia and Laodicea."
12 I turned around to see the voice that was speaking to me. And when I turned I saw seven golden lampstands, 13 and among the lampstands was someone like a son of man,[a] dressed in a robe reaching down to his feet and with a golden sash around his chest. 14 The hair on his head was white like wool, as white as snow, and his eyes were like blazing fire.15 His feet were like bronze glowing in a furnace, and his voice was like the sound of rushing waters. 16 In his right hand he held seven stars, and coming out of his mouth was a sharp, double-edged sword. His face was like the sun shining in all its brilliance.
17 When I saw him, I fell at his feet as though dead. Then he placed his right hand on me and said: "Do not be afraid. I am the First and the Last. 18 I am the Living One; I was dead, and now look, I am alive for ever and ever! And I hold the keys of death and Hades.
Take some time to answer a key question you've raised as a group and think through how the issues you've explored apply to your lives.
Here are some sample questions:
1. How does John introduce himself to his readers?
2. If this letter were addressed to your group, how would you receive John's message based on his introduction
(verse 9)?
3. John was in exile, yet he was in the spirit on the Lord's day (verse10). What does it mean to be 'in the spirit' and what encouragement can we gain from this in a time when we are isolated in Covid?
4. Read through verses 12-15. Note observations or questions. Take some time to answer a key question or observation you've raised. What do you learn about God through this description?
5. When John saw this vision of God, he fell flat at God's feet as though dead (verse 17). What does this tell you about God's power and greatness?
6. What does God's response to John "Do not be afraid" tell you about God?
7. How does an unveiled vision of God affect the way we live?
________________________________________________________________________________
THE BIG IDEA OF DAVID HEARN'S MESSAGE TO US WAS:
Mission-focused passion is ignited in an unveiled vision of Jesus.
________________________________________________________________________________
SCRIPTURE COMPARISON:
HAVE A FEW VOLUNTEERS READ THE FOLLOWING VERSES
1. (Isaiah 6:1-3) "I saw the Lord. He was sitting on a lofty throne, and the train of his robe filled the Temple. Hovering around him were mighty seraphim, each with six wings. With two wings they covered their faces, with two they covered their feet, and with the remaining two they flew. In a great chorus they sang, 'Holy, holy, holy is the Lord Almighty! The whole earth is filled with his glory!' The glorious singing shook the Temple to its foundations, and the entire sanctuary was filled with smoke."
2. (Daniel 10:4-6, 9-11, 18-19a) "I was standing beside the great Tigris River, I looked up and saw a man dressed in linen clothing, with a belt of pure gold around his waist. His body looked like a dazzling gem. From his face came flashes like lightning, and his eyes were like flaming torches. His arms and feet shone like polished bronze, and his voice was like the roaring of a vast multitude of people…
When I heard him speak, I fainted and lay there with my face to the ground. Just then a hand touched me and lifted me, still trembling, to my hands and knees. And the man said to me, 'O Daniel, greatly loved of God, listen carefully to what I have to say to you. Stand up, for I have been sent to you.' When he said this to me, I stood up, still trembling with fear…
… 'Don't be afraid,' he said, 'for you are deeply loved by God. Be at peace; take heart and be strong!' As he spoke these words, I suddenly felt stronger."
3. (Acts 9:3-6) "As he neared Damascus on his journey, suddenly a light from heaven flashed around him. He fell to the ground and heard a voice say to him, "Saul, Saul, why do you persecute me?"
"Who are you Lord?", Saul asked.
"I am Jesus whom you are persecuting" he replied. "Now get up and go into the city…
QUESTIONS:
1. How do these verses support the big picture of the sermon?
2. What stands out to you in these verses about who God is?
3. What stands out to you in these verses about God's love?
4. How do these verses ignite a mission passion?
---
DISCUSSION (about 20 minutes):
Take some time to discuss the following questions as a group:
1. What is mission?
2. How does an unveiled vision of Jesus move us from apathy (lack of interest, enthusiasm or concern) to passion (strong and barely controllable emotion)?
3. What are some things that hinder us from seeing the unveiled face of Jesus?
4. Is there anything that stood out to you from David Hearn's message? If so, share with the group.
Close with a time of prayer.
Practice praying for one another and whatever needs or praises you'd like to bring to Jesus. Begin by asking God to show you how to pray and then pray according to how He leads you.